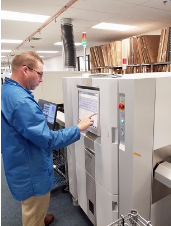 MENTOR, OH ― October 2017 ― Libra Industries, a privately held electronics manufacturing services (EMS) provider, today announced that is has completed the installation of a new Omron VT-S730 3D Post Reflow AOI system at its Dallas, TX facility. The company now can certify its SMT production with full IPC standard compliance using Omron's new 3D-SJI technology.
With the new 3D-SJI combo technology, Libra Industries can use the VT-S730 to easily detect lifted lead, lifted component and component coplanarity, and provide high-quality solder joint inspection. Libra Industries will implement the new high-performance, high-speed inspection system to provide its customers with high-quality SMT production.
The VT-S730 features color highlight™ 3D solder shape reconstruction technology, as well as specific phase shift inspection technology that makes it a highly efficient inspection system. This is not just another phase shift machine – it is much more than that, and the inspection capability is amongst the highest available on the market today.