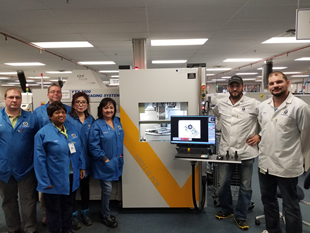 MENTOR, OH ― November 2017 ― Libra Industries, a privately held electronics manufacturing services (EMS) provider, has purchased and installed Viscom's new X8011-II PCBA X-ray inspection system at its Dallas, TX facility. The Viscom X8011-II enables Libra Industries to offer its customers 3D modeling of the solder connections on devices ranging from BGAs, QFNs, thru-hole technology and any lead-less devices.
"The new Viscom X8011-II PCBA X-ray automates the inspection process, reducing human misinterpretation and provides shorter cycle inspections and improvised process controls," stated Cory McMaster, Libra Industries' Assembly Manager. "This equipment also gives us the capability to provide a non-destructive failure analysis of solder joints on PCBAs."
In modern SMD production, components such as BGAs, QFNs or QFPs are gaining ground. Because their connectors are mostly hidden, many solder joints can only be reliably checked with an X-ray inspection. The X8011-II PCBA high resolution X-ray inspection system was developed especially for these tasks. Typical applications are, for example, the inspection of electronic assemblies and components, quality assurance in power electronics, or non-destructive special inspections.
Libra Industries continues to invest to provide customized manufacturing solutions to help make its customers more competitive and improve their profitability.