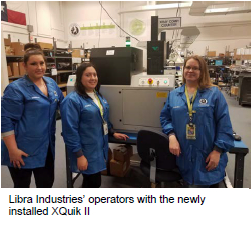 MENTOR, OH ― February 2018 ― Libra Industries, a privately held electronics manufacturing services (EMS) provider, is pleased to announce that its Dallas, TX facility recently installed an XQuik II with AccuCount Technology from VJ Electronix. Improved component inventory accuracy and reduced time waiting to count will boost Libra Industries' responsiveness to customer needs.
"The XQuik II X-ray Inspection system not only gives us capability to quickly turn around component reel counts through automation, but improves inventory control and accuracy," stated Cory McMaster, Libra Industries' Assembly Manager. "The machine also allows us to count parts in sealed packages or trays that are moisture sensitive, avoiding un-necessary exposure."
The innovative XQuik II uses X-ray imaging combined with proprietary image analysis to quickly and accurately count components without the need to unwind the reels and manually count. Incorporating the XQuik into Libra Industries' production process will provide more efficient movement of inventory, reducing line setup and break down time.
The revolutionary XQuik II with AccuCount Technology is now faster than ever. With available material handling automation, the XQuik system automatically counts components at up to twice the original speed. Parallel processing allows the system to acquire images and calculate component count in parallel with bar code scan, loading and labeling of reels.