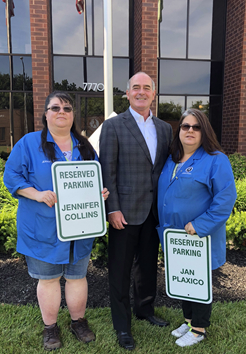 MENTOR, OH ― July 2018 ― Libra Industries, a privately held electronics manufacturing services (EMS) provider, is pleased to announce its service awards for Q2 2018. The company recognized the 15-year anniversaries of Jen Collins, THT Light Assembly/Cell Lead and Jan Plaxico, Materials Planner & Scheduler.
Both associates received a plaque and a reserved parking spot of their choice. Libra Industries' Marketing & Communications Manager, Jenn Kiminas commented: "These employees are what makes Libra special. Their dedication of their talents and time is very much appreciated by all of us. We take great pride in rewarding their loyalty to Libra Industries."
Libra Industries emphasizes that employee satisfaction is equally important as customer satisfaction. Personal and professional growth are important to Libra Industries, and employees know their value. Libra Industries has seen steady growth due to its ongoing dedication to investing in people, quality systems and the latest manufacturing technology and processes.
Libra Industries frequently hosts employee appreciation events and is proud to offer a scholarship program to employees and their family members. The company continues to invest to provide customized manufacturing solutions to help make its customers more competitive and improve their profitability.